Engineers and thought leaders from around the world will gather to discuss important topics and network at exhibits and other planned events. This is an excellent opportunity for your business to reach and impact a large number of prospects. To help assist you in reaching those potential prospects and buyers, this year's Symposium will be offering numerous advertising options to fit your objectives and budgetary needs for the show.
Program Advertising
The Advance and Final Programs serve as the official guide to engineers and attendees across the globe as they learn about, consider, and schedule attendance to various sessions, exhibits, and networking events throughout the week. Promote awareness of your company, boost traffic to your booth, or present a special offer using the various options available via Programs advertising.
Advertising options vary from full page to business card size ads.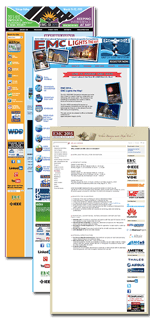 Online Advertising
The 2015 EMC Symposium website is the online hub for all information for the symposium. This site will be accessed Internationally by attendees, exhibitors, and presenters. Reserve your banner early and start building the buzz and directing traffic to your site today!
Ads will display in random rotation on the homepage. Advertisements run throughout the symposium dates, and for a few months after the event.
Interested in advertising?
Material Specifications
Full page (bleed) finished size live area
8.375
7.875
11.125
10.625
Full page (non-bleed)
7.125
10
1/2 page horizontal
6.875
4.875
1/2 page vertical
3.25
10
1/4 page
3.375
4.875
1/6 page
3.5
3
Business Card
3.5
2
Web banner
197 pixels
197 pixels